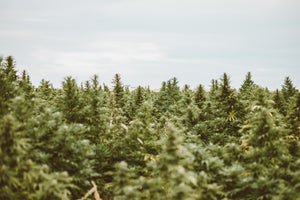 Cannabis for all, y'all!
Legalize Appalachia is a North Carolina non-profit and Appalachian grassroots movement working to equitably legalize cannabis in the prohibition South while supporting communities, individuals and families with cash aid, free therapy, mental health resources, cannabis education and advocacy.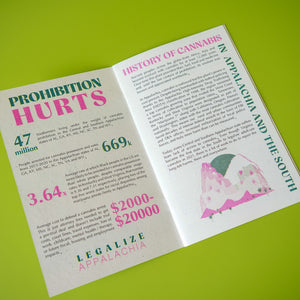 Cannabis for all Y'all, ZINE
Consider Cannabis for All, Y'all: A Guide for the Prohibition South a introduction to building an equitable cannabis future in the South. The pages of this zine are filled with information and resources to bring awareness and advocacy to an overlooked region of our country that continues to be impacted by the harms of prohibition. 
Limited release risograph. Printed on recycled pulp fiber paper blended with hemp. 100% of the proceeds will fund the Prohibition Hurts Cash Aid and Free Therapy pilot programs.
GET THE RISO ZINE
2nd annual 420 for all y'all
Legalize Appalachia presents the second annual 420 for All Y'all celebration on Saturday, April 22, 2023 from 3-6 p.m. 
Join us for a zine reading, tasty Jamaican food from Caribbean Soul, and a community discussion at The Birdhouse in Knoxville, Tennessee! 
Radical storyteller and comedian Brandi Augustus (she/her) will host the event and lead a community-centered discussion with an amazing lineup of Knoxville community members including Charlene Izere, Gabrielle LeFlore, Imani Mfalme Shula, and Jerome Johnson.
Let's talk about how prohibition hurts. Let's celebrate together in-person with our East TN community – and virtually with our folks across Appalachia and the country.
ALL ARE WELCOME | MASKS ENCOURAGED & PROVIDED | FREE RSVP | $5+ SUGGESTED DONATION | FOOD & BEVS FOR ALL | COMMUNITY VENDOR MARKETPLACE | IN-PERSON + VIRTUAL OPTION
The community discussion will be live streamed on Instagram (@legalizeappalachia) to include folks from across the region in the conversation and fun. Not sure if you can join us virtually that day? Register anyway! All registered attendees will receive a recording of the event and be looped in on future Legalize Appalachia programs. 
Reserve Your Spot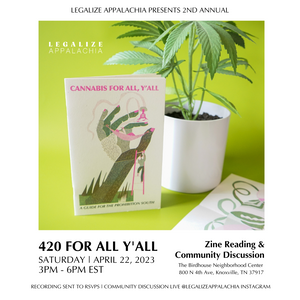 Prohibition Hurts
47 million- Southerners living under the weight of cannabis prohibition in the Central and Southern Appalachian states of AL, GA, KY, MS, NC, SC, TN and WV.₁  [SOURCE]

669k- People arrested for cannabis possession and sales from 2015-2020 in the Appalachian states of AL, GA, KY, MS, NC, SC, TN, VA and WV.₂ [SOURCE]

3.64x- Average rate at which Black people in the US are more likely to be arrested for cannabis possession than white people, despite comparable usage rates. In Kentucky and West Virginia, that number is 9.36 and 7.31 respectively, placing two of the top five worst states for racial disparities among marijuana arrests firmly in Appalachia.₃ [SOURCE]

$2,000-$20,000- Average cost to defend a cannabis arrest. This is just attorney fees needed to get a pre-trial deal and doesn't include trial costs, court fines, travel expenses, loss of work, childcare, mental health / therapy, or future fiscal, housing and employment impacts.₄ [SOURCE]
Legalize Appalachia | A US 501(c)(3) public charity | EIN #86-3707027
315 Haywood Road #113, Asheville, NC 28806